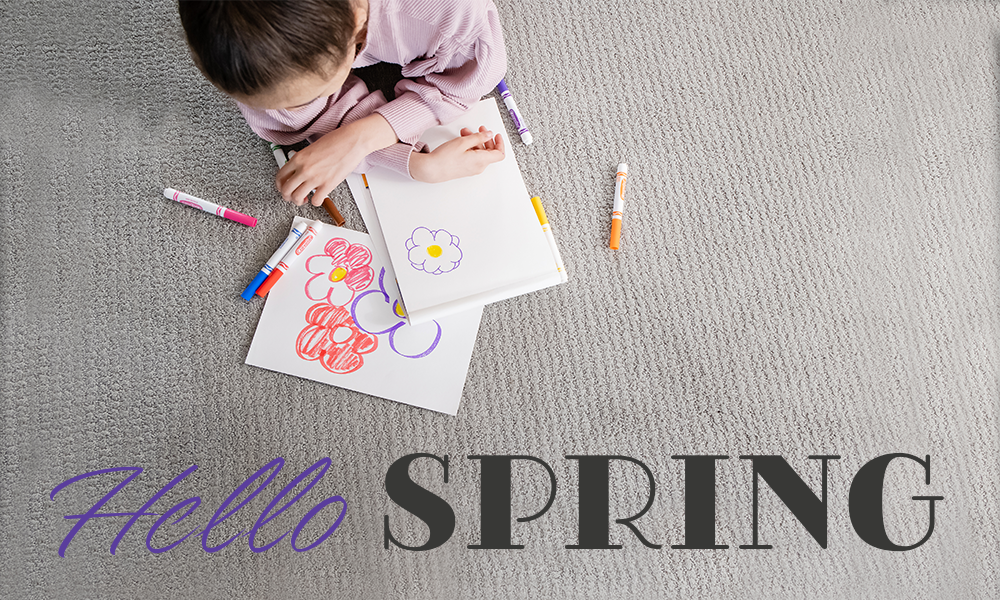 Spring Cleaning Made Easy
WEDNESDAY, APRIL 12, 2023
As the winter chill begins to fade and the flowers start to bloom, it's time to welcome the arrival of spring. With the change in season comes the urge to freshen up our homes and make them shine again after a long winter. And what better way to do that than with Chem-Dry, the trusted name in professional carpet and upholstery cleaning? In this blog post, we'll explore how Chem-Dry of Bellingham can help you achieve a cleaner, healthier home for spring.
Revitalize Your Carpets
During winter, carpets can accumulate dirt, dust, and allergens that get tracked in from outside. With Chem-Dry's unique carpet cleaning process, your carpets will receive a deep clean that removes dirt and grime, leaving them looking fresh and feeling soft. Chem-Dry uses a hot carbonating extraction method that cleans your carpets using the power of carbonated bubbles, which penetrate deep into the carpet fibers to lift away dirt and stains. This process is also eco-friendly, using minimal water and non-toxic cleaning solutions, making it safe for your family, pets, and the environment.
Renew Your Upholstery
Winter can be tough on your upholstery too, with constant use and exposure to dirt and germs. Chem-Dry's upholstery cleaning services can bring new life to your furniture. Our specialized cleaning techniques remove stains, odors, and allergens from your upholstery, leaving it clean, fresh, and inviting. Whether it's your beloved sofa, favorite armchair, or dining room chairs, Chem-Dry of Bellingham can effectively clean a wide range of upholstery fabrics, including delicate and hard-to-clean materials.
Refresh Your Area Rugs
Area rugs add warmth and style to our homes, but they can also trap dirt and allergens over time. Spring is the perfect time to give your area rugs some much-needed attention with Chem-Dry's professional rug cleaning services. Chem-Dry uses a gentle yet effective process that cleans your rugs thoroughly while protecting their delicate fibers. From Oriental rugs to modern area rugs, Chem-Dry of Bellingham can help restore the beauty and freshness of your rugs.
Eliminate Pet Odors and Stains
If you have pets, you know that accidents happen, and lingering odors and stains can be challenging to remove. Chem-Dry specializes in pet-friendly cleaning solutions that can effectively neutralize pet odors and remove tough stains caused by pet accidents. Our advanced cleaning techniques can penetrate deep into the carpet fibers to eliminate odors at their source, leaving your carpets and upholstery smelling fresh and clean.
Improve Indoor Air Quality
With spring allergies in full swing, improving indoor air quality becomes a priority for many homeowners. Chem-Dry's unique cleaning process can help reduce allergens and improve the air quality in your home. Our cleaning solutions are Green Certified and contain no harsh chemicals, making them safe for your family and pets. Additionally, our hot carbonating extraction process can effectively remove allergens, such as pollen, pet dander, and dust mites, from your carpets and upholstery, helping you breathe easier and enjoy a healthier home environment.
As you prepare for your spring cleaning routine, consider the many benefits of Chem-Dry of Bellingham's professional cleaning services. From revitalizing your carpets and renewing your upholstery to refreshing your area rugs and eliminating pet odors, Chem-Dry can help you achieve a cleaner, healthier home this spring. With our eco-friendly, pet-friendly, and effective cleaning methods, you can trust Chem-Dry of Bellingham to bring new life to your home and create a fresh start for the season ahead. Contact us here or at (360) 383-0100 to schedule your spring cleaning appointment and experience the Chem-Dry difference.
BACK TO BLOGS